Hello friends and family!
I hope you are all doing well and have had a great year!! I'm going green this year by sending holiday wishes and my year in review electronically. 🙂 This has been a heck of a year for me with some significant changes from my normal status quo, including going back to school while working overtime supporting 3 different programs at work, working out 4-6 days a week, and continuing to play competitive coed volleyball. This year also brought some changes to my pet family.
As some of you are already aware, the sad news for me this year was that I had to put Molly, my dog of 17 years, down in August because she had developed congestive heart failure. She was 18 and a half, I adopted her from a rescue group when she was almost 2, and she was a great dog who lived a long, healthy life, but she's in a better place now and as hard as it was to do, she and I both new it was time for her to move on. Her vet said she was the longest running canine patient they've ever had. On the positive side, a couple months later, I welcomed my brother and sister-in-law's 11 year old male yellow lab (Diesel) into my home since they no longer have a fenced in yard or time to walk him. He and Bailey are getting along well around the house and during their twice a day walks.

The big exciting news for me is that in January I'll be voluntarily going to part time at Harris (with the intention to leave completely in a few months as my new business grows), where I've worked as a systems engineer for the last 9 and a half years, to focus on building my own business as a Hypnotherapist using essential oils and other natural, safe techniques and products to help my clients achieve a healthy mind/body balance. Hypnotherapy was the schooling I went through from January through October this year, completing 500 hours and becoming a Certified Clinical Hypnotherapist. For those of you who don't know what that is, the short version is it involves using hypnosis and other related techniques to help bring the subconscious mind back to a natural, healthy balance so clients can overcome almost any behavioral or health issue. The essential oils are a similar idea in that they can help bring the chemistry in the body back to a natural, healthy balance. I can obviously go into much more detail about either of those things if you are interested, just contact me (or checkout my website, which still needs a few finishing touches)!! My plan is to focus on weight management, pain management and helping people achieve their ultimate potential for health and happiness through natural, holistic methods, but there's practically no limit to what hypnotherapy and the oils can help with!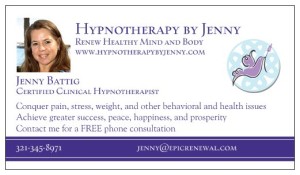 I'm so excited and looking forward to 2014 to be an amazing year of positive changes for me, both personally and professionally!
I wish you all happy holidays and a wonderful, healthy 2014!!
With much love and appreciation to each of you,
Jenny Battig, CCHt